Our Story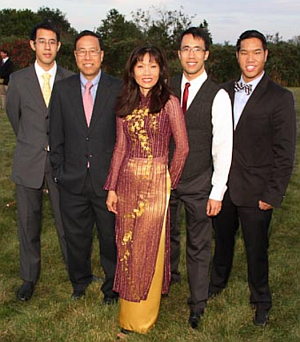 Our parents both fled Vietnam and sought better opportunities in America, encountering struggles while establishing their lives. Our mother, who escaped Vietnam in a small fisherman's boat during the Vietnam War, arrived in America alone. Upon arriving to America with literally nothing, she had to work 3rd shifts while attending school in order to support herself. Our father came with his family, but still had to work while attending college in order to support his family. Having overcome numerous hardships and struggles, both of our parents are now living successful lives and are an inspiration to all of us. Our mother is now a chemist and a business owner with a Masters Degree and our father is an engineer and professor, with a Doctorate Degree.
Both of our parents raised the three of us on the basis of traditional Vietnamese values that were important to them and stressed the utmost importance of education and giving back to the community.
After taking a trip to Vietnam in the summer of 2007, having never seen our parents' home country, we were struck with a sense of disturbance as we saw the wide division between the social classes. We felt the need to do something in order to help the poor we saw struggling. We helped those we could help by providing the poor with food during our journey in Vietnam. However, in our hearts, we felt that rice would not be enough to erase the problem, but would only delay the inevitable.
Being raised in an American society, we were influenced by schools the importance of community service and reaching out to the helpless. Watching our parents helping other people inspired us to do the same, reaching out to those who have nowhere to go.
We resolved to help the poor children of Vietnamese villages to obtain an education by providing them academic scholarships in the hopes that they would one day be capable of pulling their family out of the jaws of poverty."